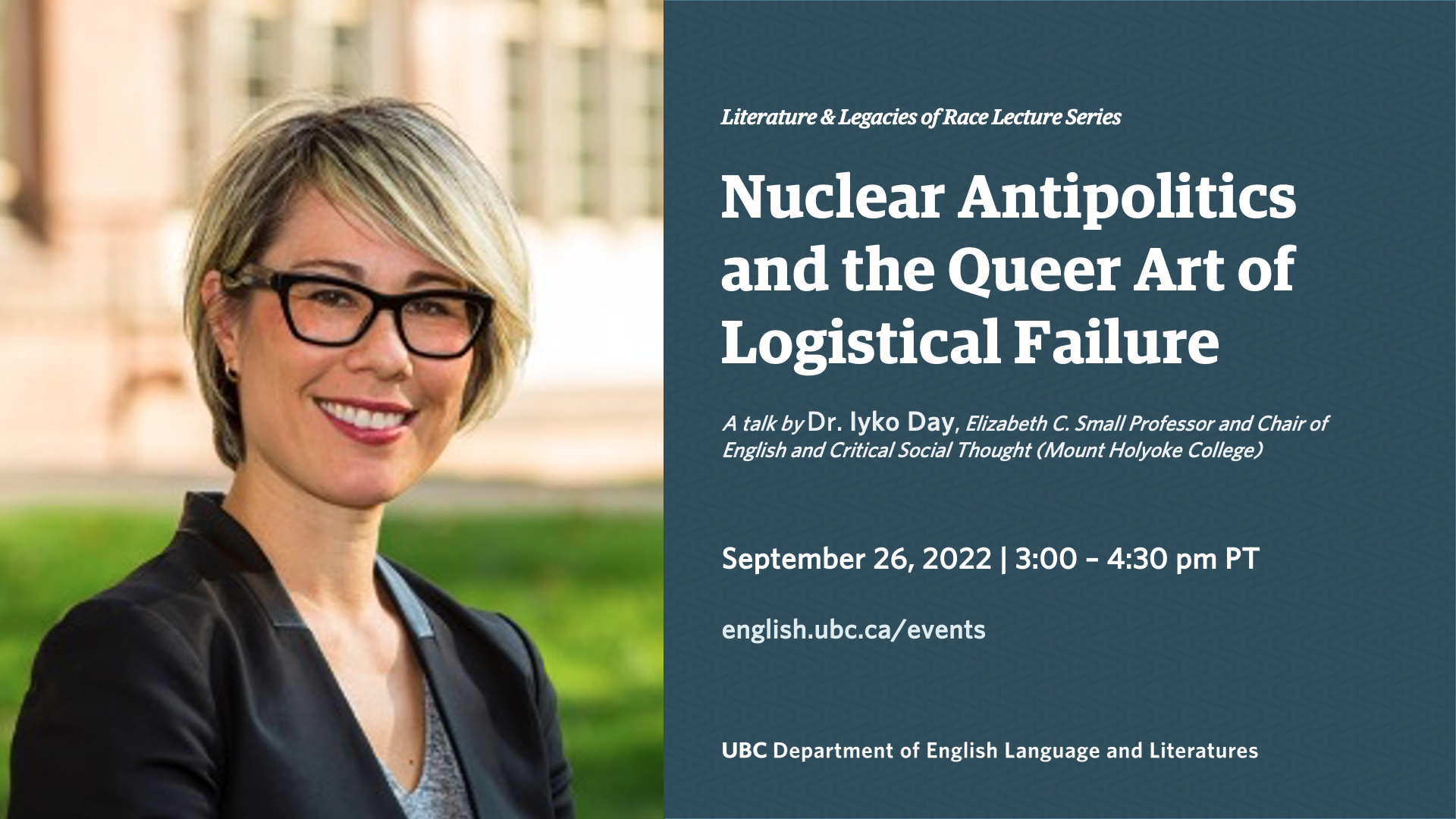 The Department of English Language & Literatures is pleased to invite you to the Literature & Legacies of Race lecture series, organized by Dr. Dennis Austin Britton. In this three-part series, leading scholars will help us consider how histories of racism, colonialism, and slavery have shaped cultural imaginations at different historical moments.
All lectures in this series can be attended virtually via Zoom or in person at the UBC Point Grey campus, situated on the unceded, ancestral, and traditional territory of the xʷməθkʷəy̓əm (Musqueam). Whether you plan to attend virtually or in-person, please register for the event using the link below.
---
Talk Abstract
In this presentation, Iyko Day (Mount Holyoke College) attempts to dislodge Hiroshima from available frameworks of public memory and what Lisa Yoneyama refers to as a "nuclear order of knowledge."  This is a mode of colonial unknowing that obscures the colonial sites of uranium extraction in Canada's Northwest Territories and the Belgian Congo, which supplied the uranium used in the atomic bombs that exploded over Hiroshima and Nagasaki.  Redirecting global memory culture, Day will delve into the "hidden abode" of uranium distribution as it exists in relation to coal and oil energy supply chains. Examining the intimacies between the Congo, the Northwest Territories, and Japan, this project examines how power relations between colonizer and colonized were reframed and reproduced in the post-World War II era as relations between the nuclear and non-nuclear.
Speaker Biography
Iyko Day (she/her/hers) is Elizabeth C. Small Professor and Chair of English and Critical Social Thought at Mount Holyoke College.  She is also a faculty member in the Five College Asian/Pacific/American Studies Program.  Her research focuses on Asian North American literature and visual culture, settler colonialism and racial capitalism, Marxist theory and queer of color critique.  Her recent articles have examined Black feminism and Afro-pessimism; Indigeneity and primitive accumulation; and uranium mining and nuclearism.  Day is the author of Alien Capital: Asian Racialization and the Logic of Settler Colonial Capitalism (Duke University Press, 2016), and she coedits the book series Critical Race, Indigeneity, and Relationality for Temple University Press.