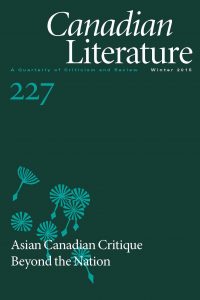 Christine Kim and Christopher Lee, Guest Editors
2016
Extending Canadian Literature's commitment to Asian Canadian studies, this special issue interrogates how national epistemes have become sedimented in the field itself, often in barely discernible ways. It is this self-reflexivity that we hope distinguishes Asian Canadian critique from the many cultural, activist, political, and institutional projects that have coalesced around this term. How would Asian Canadian critique look if we focused instead on transnational flows of labour, capital, and cultures as well as the logics of empire and processes of settler colonialisms?
Canadian Literature: A Quarterly of Criticism and Review
Canadian Literature is an academic quarterly that publishes peer-reviewed scholarly articles in French or English related to the field of Canadian literature, broadly defined. The journal's deep commitment to Canadian writing does not stop there. We also publish book reviews of critical and creative works, poems, short notes, writings of importance that have been rediscovered in the archives, interviews with writers, and articles by writers about their craft.