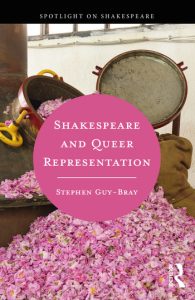 Routledge
2021
In this engaging and accessible guidebook, Stephen Guy-Bray uses queer theory to argue that in many of Shakespeare's works representation itself becomes queer.
Shakespeare often uses representation, not just as a lens through which to tell a story, but as a textual tool in itself. Shakespeare and Queer Representation includes a thorough introduction that discusses how we can define queer representation, with each chapter developing these theories to examine works that span the entire career of Shakespeare, including his sonnets, Venus and Adonis, The Rape of Lucrece, King John, Macbeth, and Cymbeline. The book highlights the extent to which Shakespeare's works can be seen to anticipate, and even to extend, many of the insights of the latest developments in queer theory.
This thought-provoking and evocative book is an essential guide for students studying Shakespeare and Renaissance literature, gender studies, and queer literary theory.