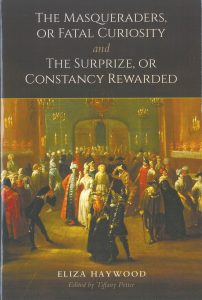 University of Toronto Press
2015
The most important female English novelist of the 1720s, Eliza Haywood is famous for writing scandalous fiction about London society. Fast-moving, controversial, and sometimes disturbing, Haywood's short novels The Masqueraders and The Surprize are valuable sources for the study of eighteenth-century gender and identity, the social history of masquerade, the dangers of courtship and seduction, and conceptions of elite and popular cultures.
Despite their common theme of masquerade and seduction, the two short novels are a study in contrasts. The Masqueraders features the whirl of London life, with a libertine anti-hero and his serial seductions of women who believe that they can manipulate the social conventions that are expected to limit them. The Surprize, on the other hand, is an uncharacteristically sentimental story in which a similarly salacious plot ends in rewards for the good and virtuous.
Well suited to the teaching of these two texts, this volume contains annotated scholarly editions of both novels, an extensive introduction, and useful appendices that discuss the masquerade's role in eighteenth-century debates on gender, morality, and identity.