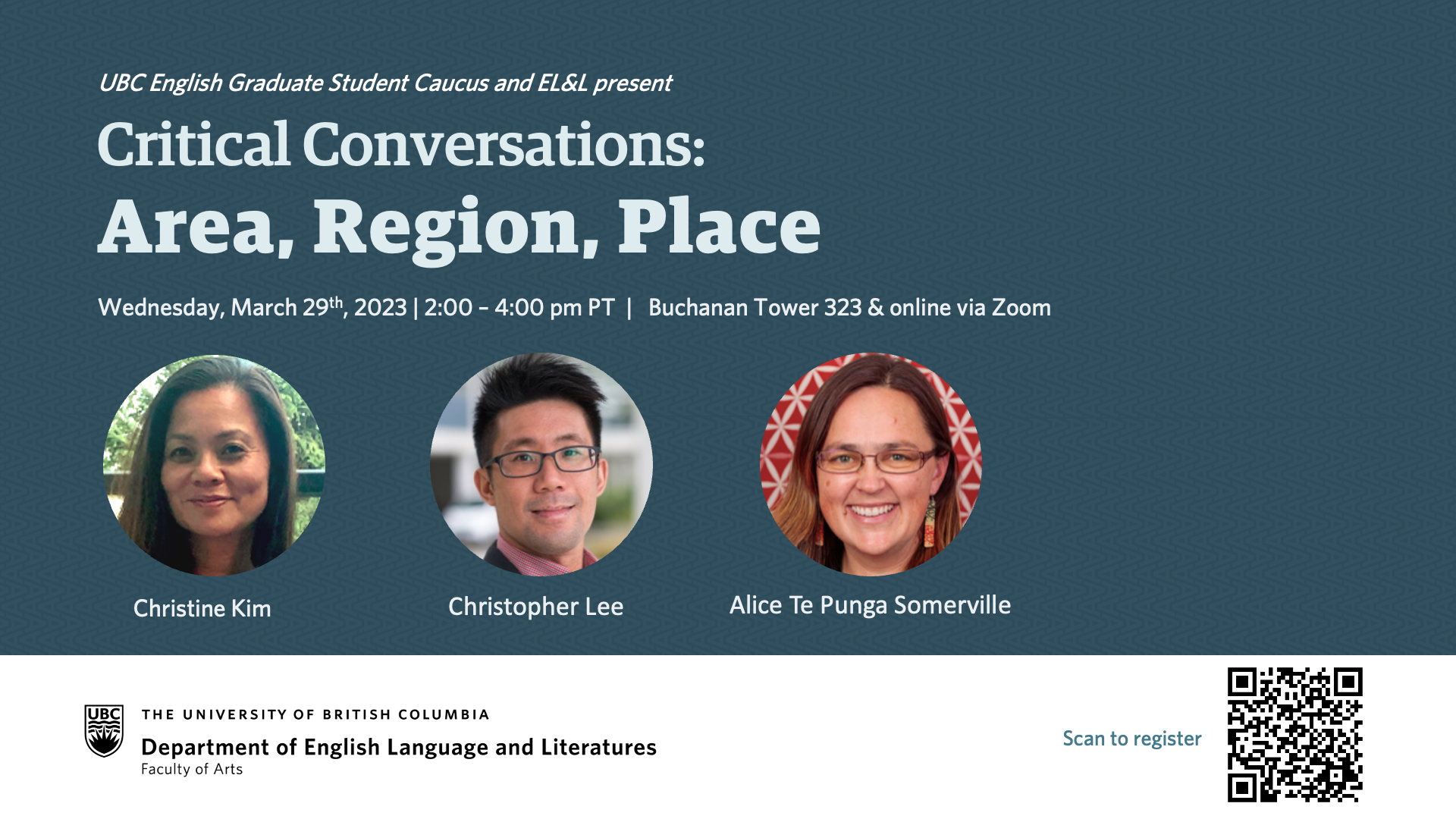 ---
We are delighted to welcome you to the third and final instalment this year of Critical Conversations on 29th March 2023. Critical Conversations is a faculty research series supported by the UBC Department of English Language and Literatures and the UBC English Graduate Student Caucus to foster conversations across fields and periodization between students, faculty, and the UBC community.
The events focus on a critical topic based on the speakers' wide-ranging research expertise and interests. The topic for the final event is "Area, Region, and Place." Register to join this conversation in-person at BuTo 323 or online via Zoom. Light refreshments will be available in-person. All are welcome!
Organized by Dr. Jeffrey Severs and Fiana Kawane.
---
Speakers
Christine Kim is Associate Professor and editor of the journal Canadian Literature. Her teaching and research focus on Asian North American literature and theory, Canadian literature, diaspora studies, and cultural studies. She is the author of The Minor Intimacies of Race (University of Illinois Press, 2016) and co-editor of Cultural Grammars of Nation, Diaspora and Indigeneity (Wilfrid Laurier UP, 2012). Christine is a founding co-director of Simon Fraser University's Institute of Transpacific Cultural Research and a faculty affiliate of UBC's Asian Canadian Studies and Asian Migration program (ACAM). Currently she is working on a SSHRC funded book-length project on representations of North Korea, cultural fantasies, and Cold War legacies.
Chris Lee is Associate Professor of English and Director of the Asian Canadian and Asian Migration Studies Program (ACAM). He is the author of The Semblance of Identity: Aesthetic Mediation in Asian American Literature (2012), which received the literary criticism book award from the Association for Asian American Studies, and a co-editor (with Maia Joseph, Christine Kim, and Larissa Lai) of Tracing the Lines: Reflections on Cultural Politics in Honour of Roy Miki (2013). His research focuses on diaspora Chinese literary thought during the Cold War, Asian Canadian visual culture, racial capitalism and Asian migration, and historical narratives of Chinese migration. He received a Killam Research Prize in 2015.
Alice Te Punga Somerville (Māori – Te Āti Awa, Taranaki) is a scholar, poet and irredentist with twin interest and expertise in Indigenous studies and Pacific studies. Her current book project 'Writing the New World' and podcast, focuses on published writing by Indigenous people from New Zealand, Australia, Hawai'i and Fiji between 1900-1975. She is the author of Once Were Pacific: Maori connections to Oceania which won Best First Book 2012 from Native American & Indigenous Studies Association, and 250 Ways to Write an Essay about Captain Cook (2020). Her recent collection of poetry is called Always Italicise: how to write while colonised (2022). Alice is the editor of the Journal of New Zealand Literature and has previously taught in Australia, Hawai'i and elsewhere in New Zealand.
---
Moderators
Cathy Xu (they/she) is a first year MA student in Literature in English with concentrations in Asian Diasporic Studies and Queer Studies. They are especially interested in the body as archive and site of resistance, as well as culinary storytelling, plant traditions, and visual mediums.
Torin McLachlan is a PhD candidate in the Department of English Language & Literatures. Torin's research is on exhaustion as both a feeling and a style, in modernist and contemporary fiction that responds to the losses wrought by global capitalism. He was a recipient of the Killam Graduate Teaching Assistant Award in 2022.