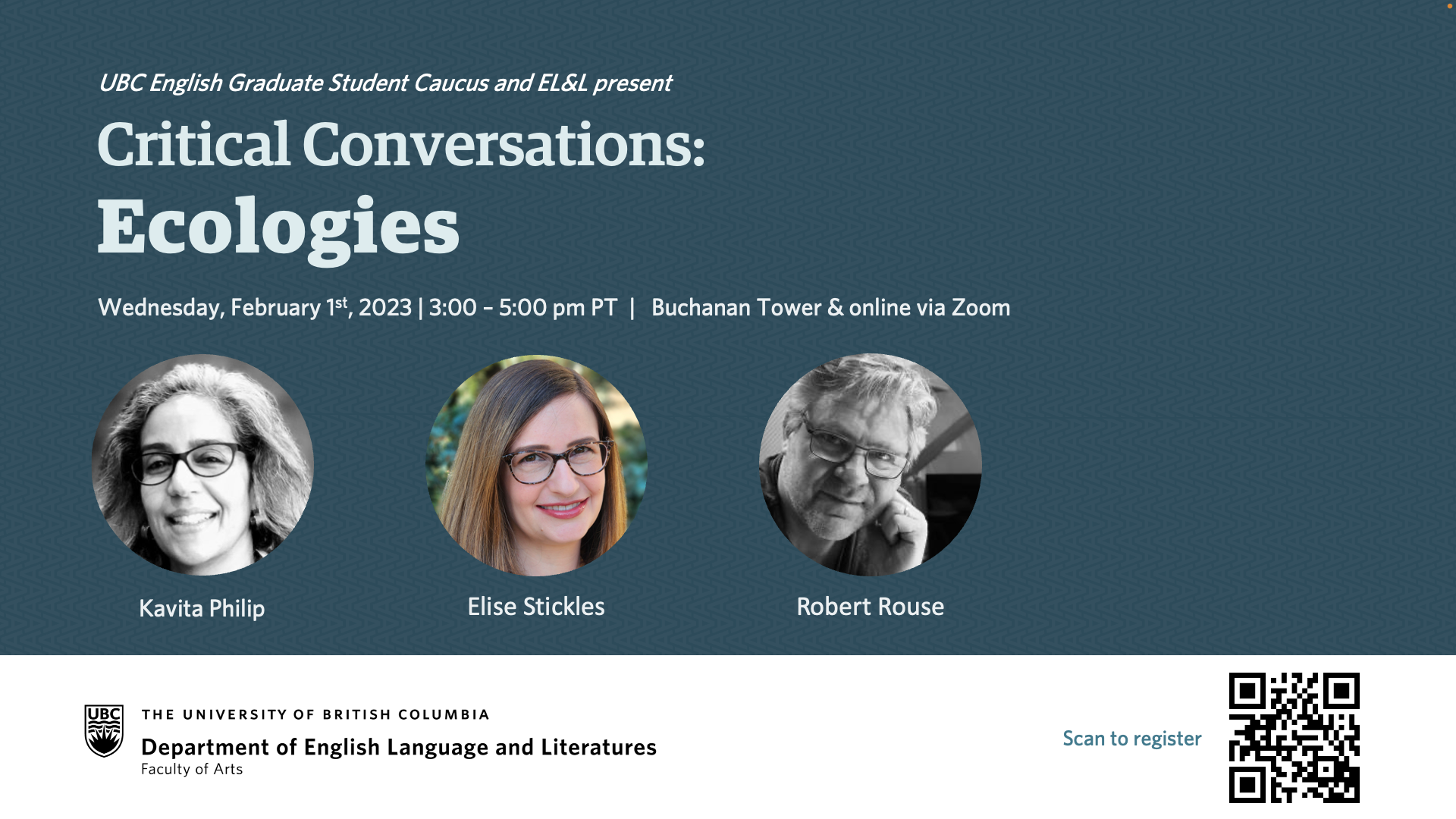 ---
We are delighted to welcome you to the second instalment of Critical Conversations on 1st February 2023. Critical Conversations is a faculty research series supported by the UBC Department of English Language and Literatures and the UBC English Graduate Student Caucus to foster conversations across fields and periodization between students, faculty, and the UBC community. The events are open to all and feature brief talks on a critical topic based on the speakers' wide-ranging research expertise and interests.
The prompt for the second event is "Ecologies" to be freely interpreted by the speakers. The event will begin with 10-minute talks followed by a Q&A session. Register to attend in-person at BuTo 323 or online via Zoom. Light refreshments will be available in-person.
Organized by Dr. Jeffrey Severs and Fiana Kawane.
---
Speakers
Robert Rouse's research focuses on Arthurian and non-Arthurian medieval romance, historiography, English national identity, saracens and other medieval others, the law, the medieval erotic, the medieval geographical imagination, TV medievalism (including A Game of Thrones), digital medievalism, and ecocritical approaches to premodern texts. Currently, he is completing a monograph on the Medieval Geographical Imagination. He has been a Visiting Fellow at Clare Hall, Cambridge, a Visiting Fellow in the Culture and Politics of the Transregional at The Centre for Research in the Arts, Social Sciences and Humanities (CRASSH) at Cambridge, and a Slater Visiting Fellow at University College, University of Durham.
Kavita Philip is President's Excellence Chair in Network Cultures and Professor in the Department of English Language and Literatures. She is author of Civilizing Natures (Rutgers University Press), and co-editor of five volumes curating interdisciplinary work in radical history, political science, art, activism, gender, technology studies, and public policy. Her work is in conversation with academic research, science and technology policy, social movements, and advocacy groups. Her research foci include British colonial environmental history, tactical media, and decolonizing computing.
Elise Stickles studies conceptual metaphor theory and embodied construction grammar approaches to syntax and lexical semantics. She focuses on multimodal metaphoric constructions, comprising both linguistic and gestural content, in order to understand how our interaction with and perception of space influences our language, and in turn how our language use reflects and construes how we think about spatial relationships and events. Her major research projects include MetaNet, a "big data" approach to identifying and analyzing metaphoric language in large text corpora, and Multimodal Embodied Construction Grammar, a theoretical framework for incorporating gestural and other non-verbal communicative content into the representation of linguistic form and meaning.
---
Moderators
Leah Alfred-Olmedo (she/her) is a member of the 'Na̱mg̱is First Nation and from Canada. She is currently a second year MA student in Literature in English. Though she is happily fathoming the field, her research interests tend toward Indigenous literatures and monster studies.
Sarah-Nelle Jackson (they/she) is a PhD candidate and UBC Public Scholar in English Language and Literatures. She draws on philology, ecocriticism, critical Indigenous legal scholarship, and video game studies to explore early notions of "environment" in Middle English accounts of imperial failure and crises of human–nonhuman governance.