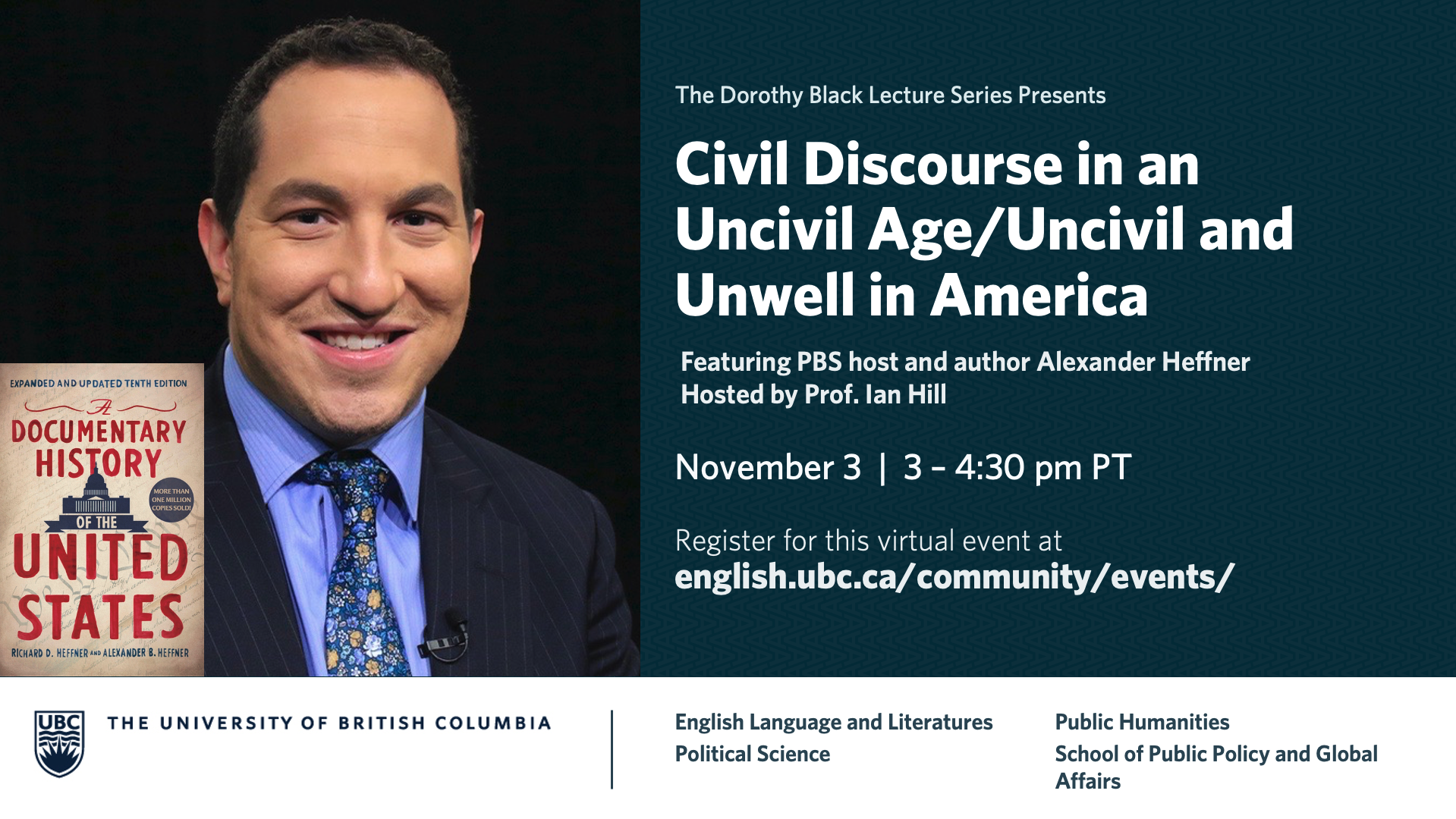 PBS host and American author/journalist/historian Alexander Heffner discusses the effects of divisiveness on discourse, media, and governance as well as the influence of social platforms and filter bubbles, mis- and disinformation, and bigotry that polarize and undermine civil society. What are possible prescriptions to correct this cycle? How can our civic footprint translate into constructive instead of destructive behaviour? How can we help achieve integrity in the public sphere?
---
In this Dorothy Black Lecture, PBS host Alexander Heffner reflects on our current moment in historical perspective. Heffner's book, A Documentary History of the United States, explore contemporary politics, populism, and pestilence through critical documents, such as speeches, testimonies, tweets, and other digital postings.
Heffner discusses the effects of divisiveness on discourse, campaigns, and governance as well as the influence of new media, dis/misinformation, and filter bubbles that polarize information intake and society. In conversation with the audience, Heffner and guests will consider the responsibilities of civic education and citizens, practice exercises to inform and build bridges, and work toward the pursuit of life, liberty, and happiness, including explanations of aspirational and inspirational oratory.
Speaker Bio
Alexander is host of The Open Mind on PBS. He has covered American politics, civic life and Millennials since the 2008 presidential campaign. He is profiled in The Wrap, Mediaite, Raw Story, The Washington Post, The New York Times, The Des Moines Register, Christian Science Monitor, Variety, Medium, and on MSNBC, C-SPAN, NPR, CNN, ABC and the BBC.
His writing appears in The Daily Beast, The Independent, USA TODAY, WIRED, TIME, NYT's Room for Debate, Boston Globe and Philadelphia Inquirer, among other publications. He is coauthor of best-selling book, A Documentary History of the United States (Tantor Media, 2020; Penguin, 2018, forthcoming 2022), and recipient of University of Denver's Anvil of Freedom Award, Franklin Pierce University's Fitzwater Medallion for Leadership in Public Communication, and Yale University's Poynter Fellowship in Journalism.
Heffner has lectured at the Newseum, National Constitution Center, Museum of American Finance, FDR Library and Museum, The American University in Cairo, Initiative for Truth at University of Sydney, Center for Information and Bubble Studies at University of Copenhagen, Institute on Constitutional Democracy at University of Missouri, Civil Discourse Lab at the University of New Hampshire, Department of Writing and Rhetoric at University of Mississippi, Center for Constitutional Democracy at Marshall University, Catt Center for Women and Politics at Iowa State, Clarke Forum at Dickinson College, Alpha Seminar at Carroll College, among other institutions of learning.
Host Bio
Dr. Ian Hill is an Associate Professor in the Department of English Language and Literatures at the University of British Columbia. He specializes in the History and Theory of Rhetoric, and is also affiliated faculty with the Graduate Program in Science and Technology Studies. His research focuses on rhetoric and technology, and he teaches courses in rhetorical history and theory, the rhetoric of technology, textual criticism, argumentation, and memes.