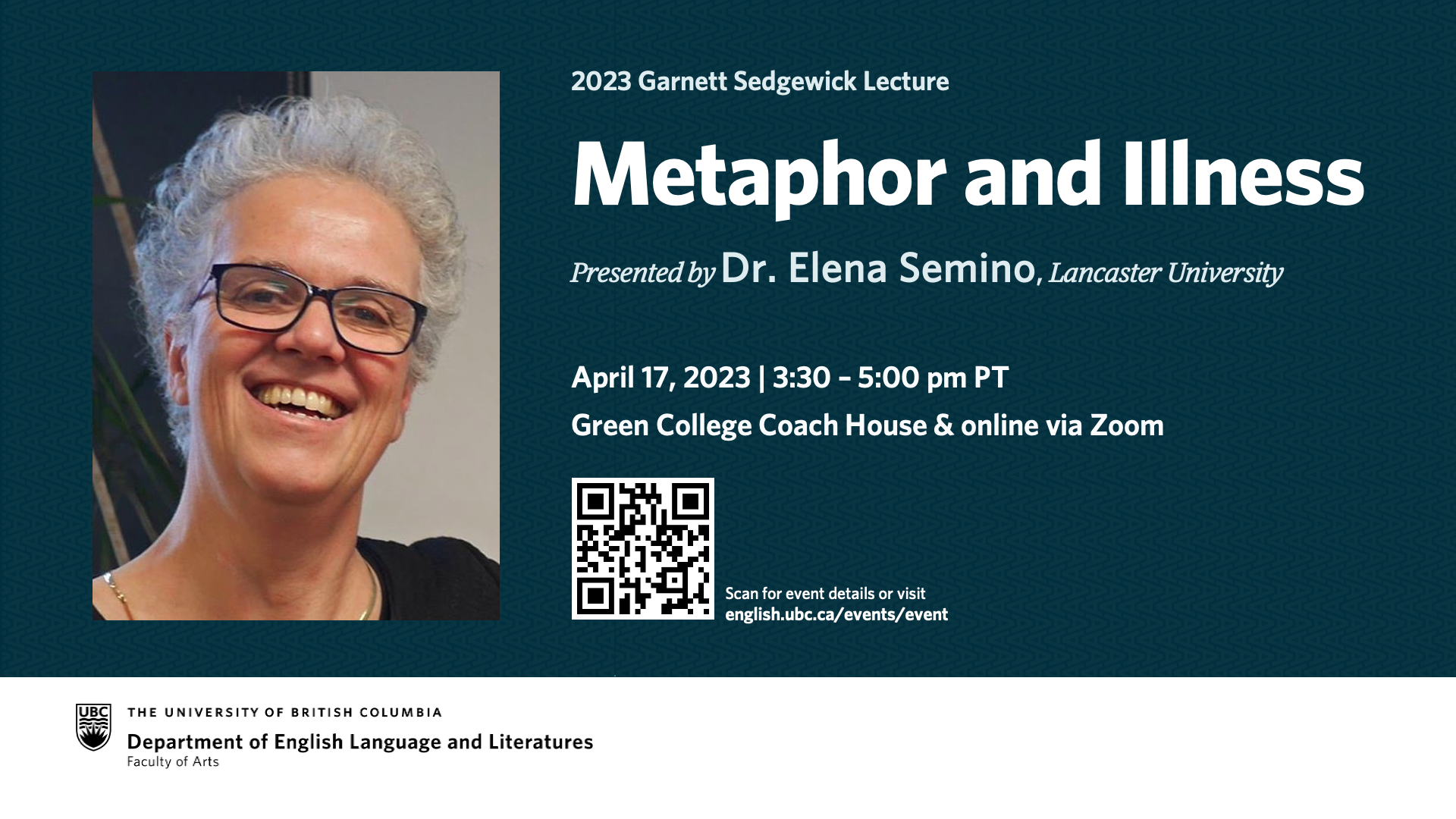 ---
The Department of English Language & Literatures is pleased to invite you to the 2023 Garnett Sedgewick Lecture, featuring Professor Elena Semino (Department of Linguistics and English Language, ESRC Centre for Corpus Approaches to Social Science, Lancaster University). Prof. Semino will present a talk entitled "Metaphor and Illness."
Happening on April 17, 2023 at 3:30 pm, this lecture can be attended  in-person at the Green College Coach House or virtually. For in-person attendance, a reception will follow from 5 – 6 pm. Whether you choose to join us virtually or in-person, please be sure to register.
Garnett Sedgewick was a professor in the Department of English at UBC from 1918 to 1948. Professor Sedgewick specialized in Shakespeare and Chaucer. In 1920, he became the first Head of the Department.
---
Talk Abstract
Metaphor and Illness
Metaphor is well known to be a linguistic and cognitive tool that we use to think and talk about subjective, sensitive and complex experiences in terms of experiences that tend to be simpler and more intersubjectively accessible. Illness is one of the experiences that are often talked about and conceptualized through metaphor. In this lecture, I discuss the metaphors used in communication about three different health conditions: schizophrenia, cancer and Covid-19. I show how in all three cases metaphors are exploited creatively for a range of purposes, including emotional disclosure, persuasion and reconceptualization. I also consider the practical implications and applications of the insights of metaphor analysis for health communication in clinical and public health settings.
---
Speaker Bio
Elena Semino (she/her/hers) is Professor of Linguistics and Verbal Art in the Department of Linguistics and English Language at Lancaster University, and Director of the ESRC Centre for Corpus Approaches to Social Science. She holds a Visiting Professorship at the University of Fuzhou in China and is a Fellow of the UK's Academy of Social Sciences. She is Associate Editor of the journal Metaphor and Symbol. She specializes in health communication, medical humanities, corpus linguistics, stylistics, and metaphor theory and analysis. She has (co-)authored over 110 academic publications, including: Metaphor in Discourse (Cambridge University Press, 2008) and Metaphor, Cancer and the End of Life: A Corpus-based Study (Routledge, 2018). Her research has been funded by UK Research and Innovation, the British Academy, the National Institute for Health Research and the Wellcome Trust. In the periods 2011-14 and 2015-18, she was Head of Lancaster University's Department of Linguistics and English Language, which is consistently ranked in the top 15 Linguistics Department in the world.