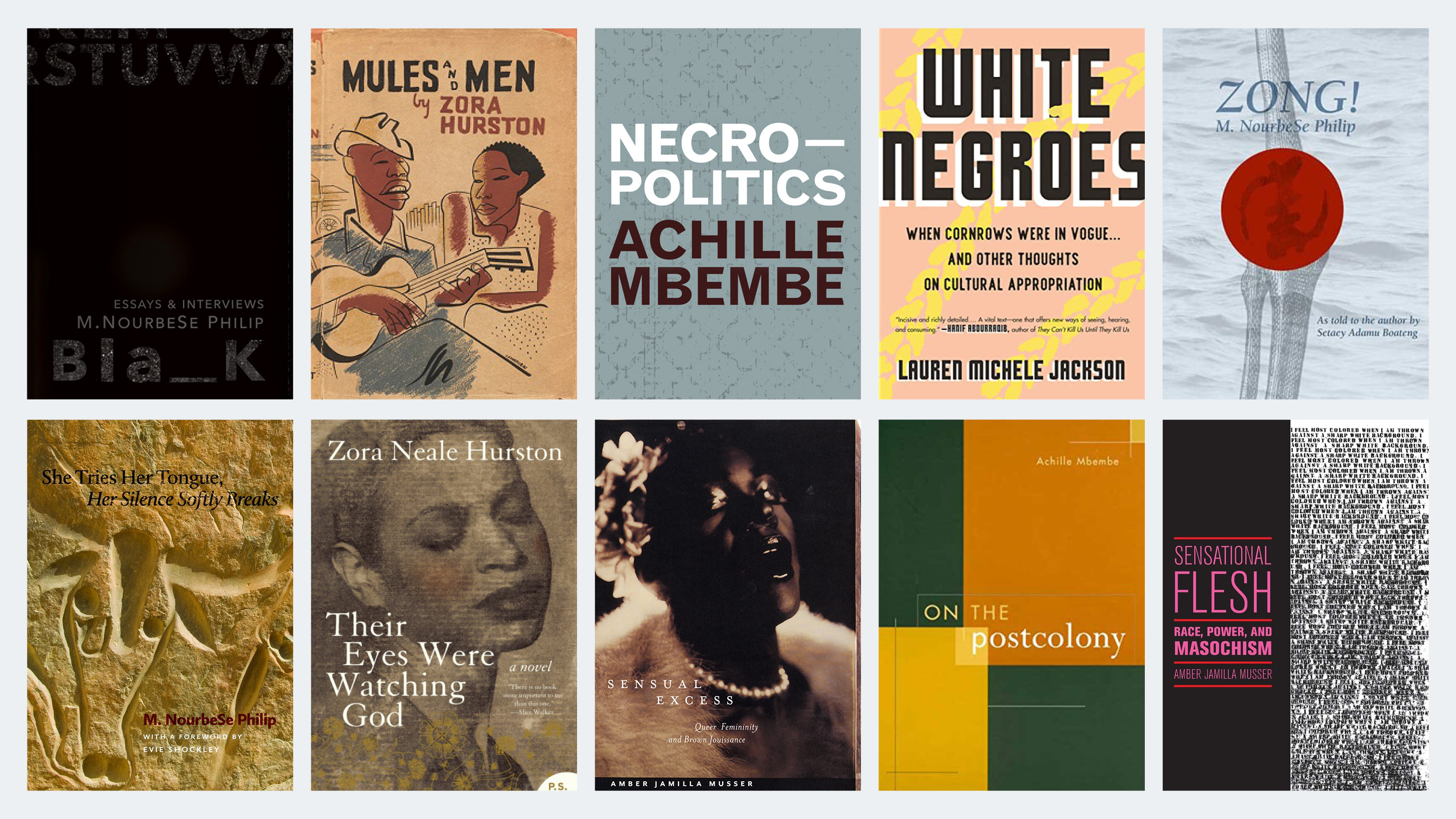 The canon of English literature and ensuing literary criticism hasn't always welcomed diverse voices. Historically, its prestige was built on the paradoxical exclusion and tokenization of the accomplishments of Black and brown thinkers and writers, and even more so on those of Black women. Nevertheless, Black excellence persists in the realms of English literature and literary criticism, and Black thinkers and writers continue to inspire the next generation of scholars in tremendous and generous ways. 
We spoke to graduate students in the Department of English Language & Literatures to find out more about their research, as well as that of Black writers and critics whose work shape their own. Read on to learn about the work of up-and-coming scholars in EL&L graduate programs, the ways in which their work is indebted to that of Black writers and critics, and how graduate students continue to dismantle white supremacy in their own work.
---
Lauren Michele Jackson
"In White Negroes: When Cornrows Were in Vogue … and Other Thoughts on Cultural Appropriation, Lauren Michele Jackson treats her contentious focus with clarity, wit, and, at all times, careful attention to multiple and overlapping structures of power. 
Jackson's bridging of popular culture artifacts to the longstanding histories and capitalist investments that motivate them appeals to me as a researcher for its scope and clarity. More importantly, White Negroes helps me to make sense of certain racialized and gendered aesthetics whose significations are variously steeped in self-expression, safety, and power. 
I have been trying to find language for my commitments to specific femme presentations since girlhood, and Jackson's words have created openings for interpersonal conversations as well as theoretical ones. Additionally, I am always in awe of her beautiful prose."
Amila Li (she, her, hers), PhD student
Research areas: Asian North American literature and theory, feminist studies, and critical race studies with a particular interest in queer Asian femininities
Achille Mbembe 
 "Achille Mbembe's work first stood out to me because it took the concept of contemporary Africa seriously: his work developed a vocabulary for thinking and writing about Africa in the present that did not rely on understanding the continent through lack, where African states are not simply lagging behind Western or Asian counterparts. Nor did his work insist on defining African societies only through precolonial cultural or political practices. Mbembe argues that what is happening in Africa today politically, economically, and socially represents the new on a global scale. 
As I try to parse the relationship between politics and literature in contemporary South Africa, Mbembe's work has encouraged me to look for unexpected continuities and coherences in how power operates in the country, rather than reinforcing the ideas of "development" and "transition" so often imposed on postcolonial societies. I also assign the introduction to On the Postcolony in my literature and film classes I teach in the UBC African Studies program to encourage students to recognize and embrace complexity, entanglement, and multiplicity as starting points for their engagement with African literature."
Deena Dinat, PhD Candidate
Research areas: contemporary South African literature, with specific focus on the Truth and Reconciliation Commission, and the creation of the "new" South African subject
Amber Jamilla Musser
"As a self-described "theorist of sensation, racialization, and excess", Amber Jamilla Musser's work encompasses critical theories of race, including Black feminisms, queer of colour critique, embodiment, aesthetics, psychoanalysis, and sexuality. 
In Sensual Excess: Queer Femininity and Brown Jouissance and Sensational Flesh: Race, Power, and Masochism, Musser elaborates on theories of erotics and enfleshment in conversation with germinal Black feminist thinkers like Audre Lorde and Hortense Spillers. In doing so, she proposes "sensuality as method" (Sensual Excess 17), wherein readers can attend to genealogies of subjectivity as they are routed through fleshly embodiments of race, gender, and sexuality. 
Musser has been crucial to my work in queer racial erotics, insofar as she attends to the many felt textures of intimacy that simultaneously exceed violent projects of empire and constitute its very conditions of possibility. Yet by depathologizing these conditions and refusing to take them for granted, she affirms the importance of reciprocal intimacy in the work of unraveling, and re-routing, normative fantasies around what relationality could feel like."
amanda wan (they, them, theirs), MA student
Research areas: queer Asian diasporic literatures, racial erotics and affect, aesthetics, queer of colour theory, postcoloniality, techno-Orientalism, and critical theories of race, gender, and sexuality
Zora Neale Hurston
"I plan to work with Mules and Men, in which Hurston cultivated an archive of Black folksongs and oral storytelling. Hurston has made a huge contribution to the archival collections of formerly enslaved Black people, whose stories/histories were largely erased as a result of the transatlantic slave trade and colonialism. 
I am especially interested in the transcribing and recording process in Hurston's field work, which included listening to folk songs, memorizing them through repetition, then transcribing and transforming them into sheet music. Published in Mules and Men, this sheet music recorded the many music elements in slave songs which then evolved into jazz. Many of these musical themes are evident throughout Black literature as signifiers of Black culture and are representative of the intersection between music and literature. 
Jazz is a Black art form. As a white person who actively practices this music, it is important to me to learn the history of the music and the people who created it, especially of a music that was born out of the human suffering and turmoil caused by the Transatlantic slave trade. In broadening my understanding of American history, especially through literature, I hope to become a more humble musician and a more sensitive scholar."
Anna Blackmore, first-year MA student 
Research areas: late 19th and early 20th century American Literature; critical race studies; film; poetry; jazz studies
NourbeSe Philip 
"NourbeSe Philip should be taught in the Arts and Humanities more widely because her works call into question fundamental assumptions around poststructuralist aesthetics, Western consciousness, and post-Cartesian thought as a framework for epistemological investigations into the nature of existence. Philip's poetics, in part, emerge out of what Katherine McKittrick calls 'geographies of Blackness' informed by colonialism, diaspora, imperialism, global capitalism, and the transatlantic slave trade. Born in Moriah, Tobago, fragmentation in Philip's poetics, comes not from postmodern or deconstruction traditions—a common misinterpretation, but rather Caribbean aesthetics, where her poetic fragmentation is influenced by the islands separated by ocean waters and the ruptured roots of African diasporic realities.
Philip's work has been particularly influential to my research because it helped destabilize my preconceptions of the poetic lyric voice and even the voice of the scholar. Her concept and coinage of the 'I-mage' contributed to my early investigations into lyric presence as an agent of resistance, liberation, and transcendence. Philip's work continues to be studied extensively in universities and she should be invited as an honoured and well-respected guest to speak on her highly influential works."
Serena Klumpenhouwer, PhD student
Research areas: existentialism, aesthetics of absence, abject theory, lyrical kenosis in contemporary Black Canadian poetics