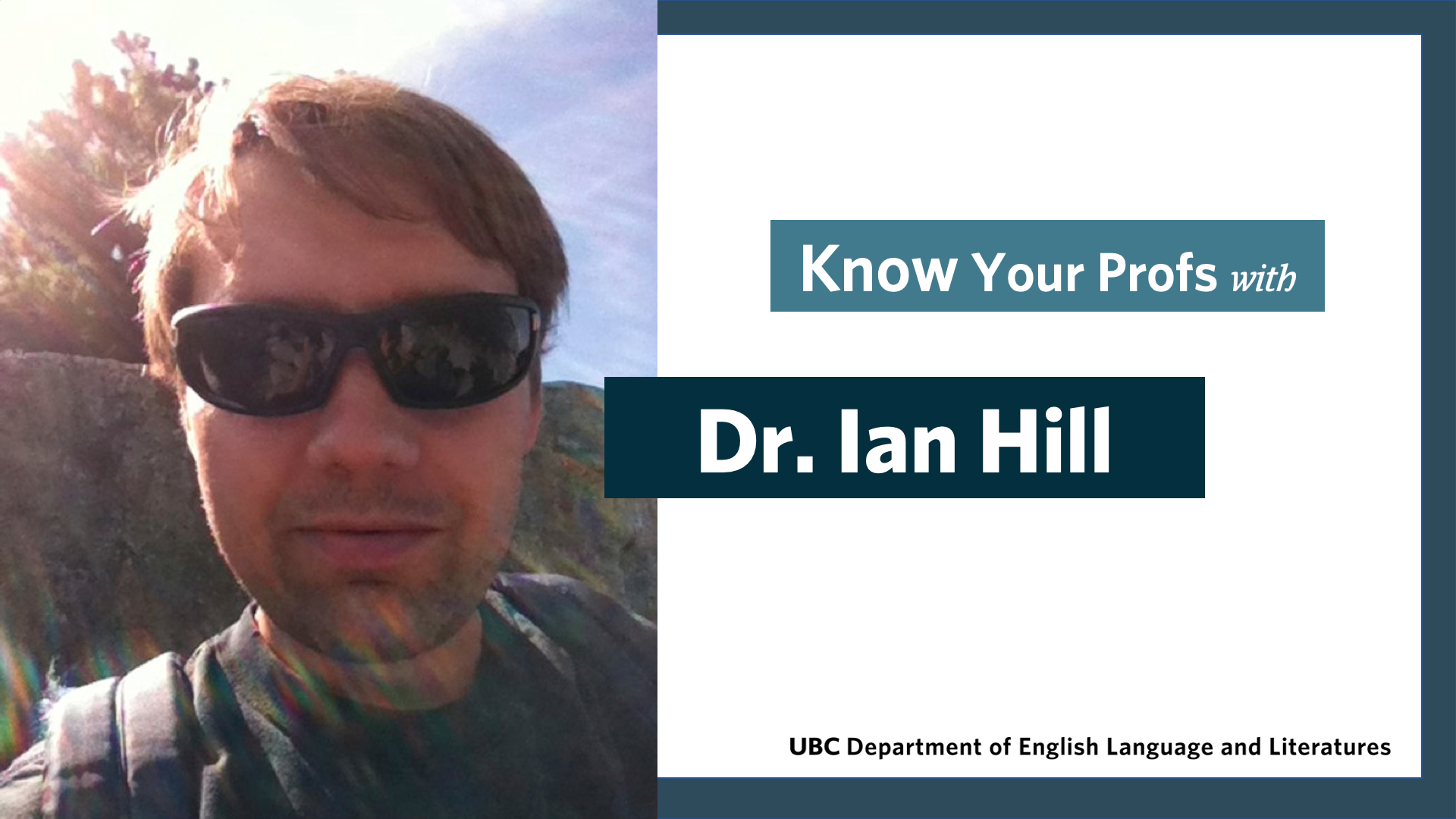 You see them every week in class, exchange emails with them about essay extensions, and go to their office hours when you realize you have a midterm next week. But who are your English Language and Literature professors, really? 
Dr. Ian Hill specializes in rhetoric, and teaches a range of courses that uses rhetoric as a lens through which to study different kinds of human activity, from propaganda to memes. Read on to find out what you can expect from his classes, and why asking questions about course reading you don't understand can make you the class hero.
---
What is your area of specialization, and when did you know academia was for you?
I study rhetoric, and more specifically, its influence, persuasion, and argumentation.
Being the child of two academics, I've always felt at home on university campuses and I aspired to someday have an office as cool as my dad's. I became interested in rhetoric when I started hanging out with the rhetoric faculty and grad students at the University of Georgia during happy hour at a bar called Tasty World. Sadly, the bar no longer exists.
What does it mean to you to study what you do?
What really attracted me to the field of rhetoric is the freedom to research and learn about any field of human activity as it pertains to language use. 
What do you like about teaching UBC students?
I like how UBC students seem to be especially creative. I'm always surprised by the novelty of my students' work.
Which course(s) do you teach? Please also provide a short description of each course.
ENGL 307: Memes & the Art of Brevity is a deep dive into how and why memes and other forms of concision, especially aphorisms, are influential. 
ENGL 311: History and Theory of Rhetoric – the Later Theory is a survey of important theories of persuasion propounded by infamous thinkers like Nietzsche, Locke, and Vico, as well as some non-western rhetorical theories. 
ENGL 111: the rhetoric of controversy is a course about how people use rhetoric to negotiate public deliberation. 
ENGL 229: Rhetoric & Power is about how people use common rhetorical techniques of propaganda, interrogation, speech acts, & etc. to create, maintain, and subvert hierarchies.
What can students expect from your classes?
For the most part, my classes entail students learning rhetorical theories from throughout history and then applying those theories to their personal experiences through either analysis or the production of artifacts. In student writing, I value nuanced brevity. You should also get ready for some wisecracks.
What are your favourite questions students have asked you in the past?
Answering student questions during a live class is probably my favourite aspect of teaching, but the best questions are ones about difficult passages of readings. If one student doesn't understand, then likely other students are wondering about that passage as well.
What advice would you give students?
Talk to your profs, whether during or outside of class.
If you weren't a professor, what would you do with your life?
Forest ranger, hands down.