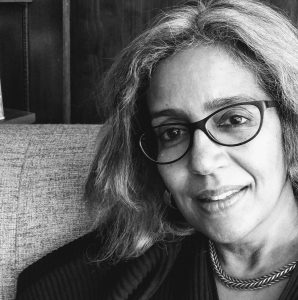 It is with great pleasure that we announce that Dr. Kavita Philip will be joining us at the UBC Department of English Language and Literatures as Professor of English and President's Excellence Chair in Network Cultures. The UBC President's Excellence Chairs were created in order to recruit preeminent academic leaders at the forefront of their respective fields.
Dr. Philip received her Ph.D. in Science and Technology Studies from Cornell University in 1996. Her research and teaching in Global South histories and sociologies of science, computational technologies, environment, network cultures, media, and politics crosses geographic boundaries and ranges across scholarly disciplines. For 25 years, Dr. Philip has been engaged not only in the intellectual task of forging methods to connect techno-scientific, social scientific, and humanistic inquiry, but also in the institutional task of building these collaborative spaces. She seeks to develop public humanities research that acknowledges the intertwined material and social contexts of cultural production. These networked commitments make her the ideal candidate for this chair.
Dr. Philip most recently taught in the History department at the University of California, Irvine. In addition, she has taught in Literature programs as well as Media and Communication Studies, beginning her career at Georgia Tech's School of Literature, Communication, and Culture (formerly an English Department). There, she participated in the creation of a Bachelor of Science degree in Science, Technology and Culture. Dr. Philip expanded and bridged legacy English department curricula from the 1980s with approaches from STS, eco-criticism, speculative fiction, and media studies. In addition, she founded and ran the "Science, Technology, and Race" project, which was heralded for its exemplary pedagogy and outreach. At Georgia Tech, she received the E. Roe Stamps award for excellence in teaching.
At UC Irvine, in addition to her role as a Professor in History, Dr. Philip was also an affiliated Faculty in Informatics, and the Director and co-founder (with Du Bois scholar Dr. Nahum Chandler) of the research group in Science, Technology and Race at the University of California, Irvine. During her time at UC Irvine, she also served as the Director of the Critical Theory Institute, Director of the Graduate Feminist Emphasis, and Director of Graduate Studies in History.
Dr. Philip is author and editor of books and articles in environmental history, postcolonial studies, digital media, art, and activism. Most recently, Dr. Philip has been collecting narratives of individual life histories in digital India, bringing these into dialogue with structural and philosophical analysis from post-colonial theory, and seeking to offer a prehistory of the digital revolution in India. She situates recent technological history in longer environmental geographies of southern India, attempting to understand how urbanism, nationalism, and sustainability come to be re-imagined in this strategic shaping of India's technological future. Dr. Philip's recent scholarly practice synthesizes tools from cultural theory, postcolonial historiography, and pirate-media studies in order to extend her previous studies of nineteenth-century technoscience through India's "long technological twentieth century," in which decolonizing dreams have confronted neoliberalism and authoritarianism. As such, this is work that explores the intellectual traffic between science, technology, and other disciplines.
We are fortunate to have secured a President's Excellence Chair for the Department of English Language and Literatures and even more fortunate to be welcoming Dr. Philip into it.