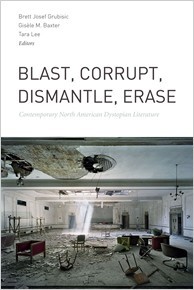 Gisele Baxter, Brett Grubisic, and Tara Lee, editors
Wilfrid Laurier University Press
2014
What do literary dystopias reflect about the times? In Blast, Corrupt, Dismantle, Erase, contributors address this amorphous but pervasive genre, using diverse critical methodologies to examine how North America is conveyed or portrayed in a perceived age of crisis, accelerated uncertainty, and political volatility.
Drawing from contemporary novels such as Cormac McCarthy's The Road, Neil Gaiman's American Gods, and the work of Margaret Atwood and William Gibson (to name a few), this book examines dystopian literature produced by North American authors between the signing of NAFTA (1994) and the tenth anniversary of 9/11 (2011). As the texts illustrate, awareness of and deep concern about perceived vulnerabilities—ends of water, oil, food, capitalism, empires, stable climates, ways of life, non-human species, and entire human civilizations—have become central to public discourseover the same period.
By asking questions such as "What are the distinctive qualities of post-NAFTA North American dystopian literature?" and "What does this literature reflect about the tensions and contradictions of the inchoate continental community of North America?" Blast, Corrupt, Dismantle, Erase serves to resituate dystopian writing within a particular geo-social setting and introduce a productive means to understand both North American dystopian writing and its relevant engagements with a restricted, mapped reality.