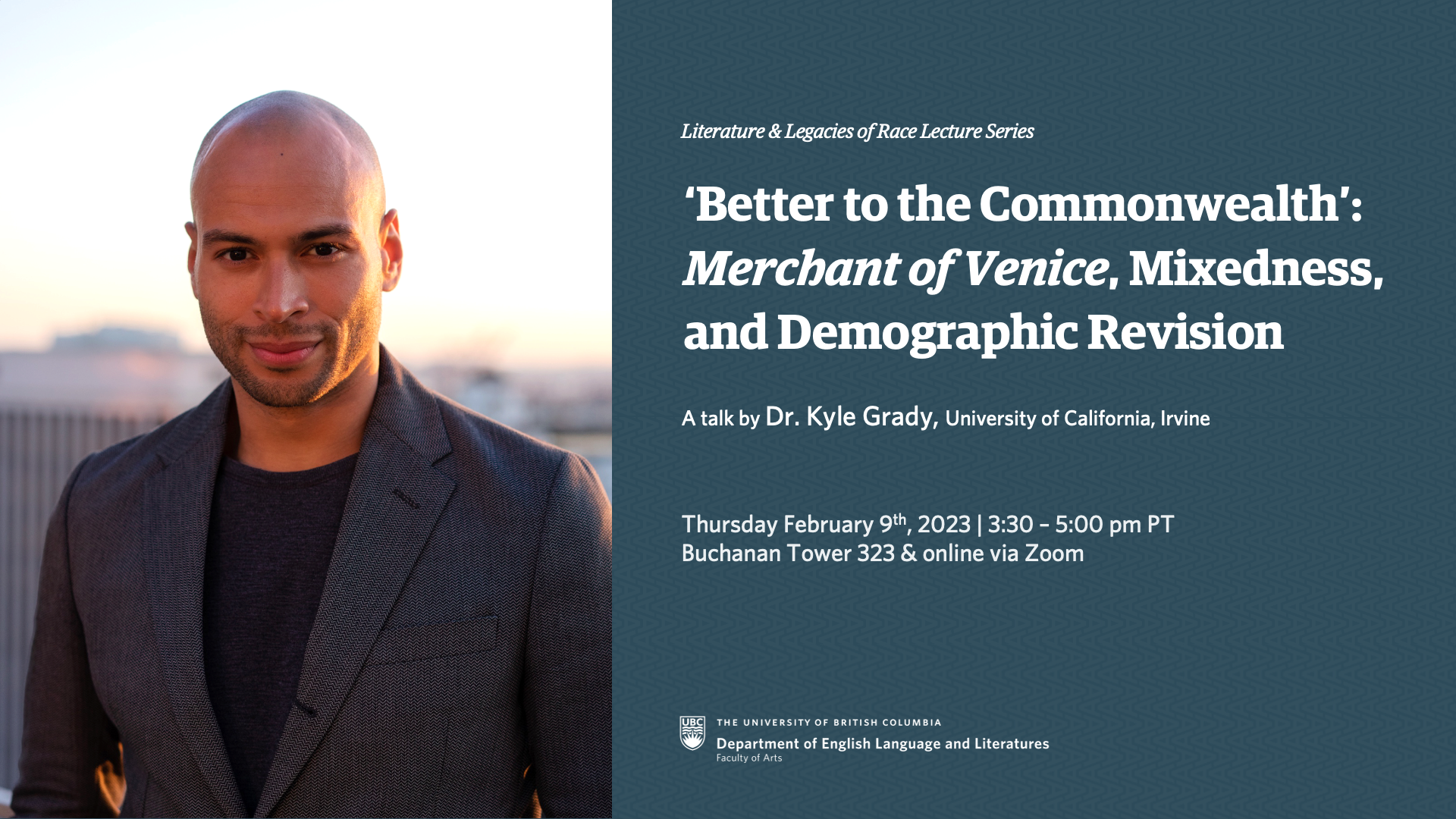 ---
The Department of English Language & Literatures is pleased to invite you to the Literature & Legacies of Race lecture series, organized by Dr. Dennis Austin Britton. In this three-part series, leading scholars will help us consider how histories of racism, colonialism, and slavery have shaped cultural imaginations at different historical moments.
All lectures in this series can be attended virtually via Zoom or in person at the UBC Point Grey campus, situated on the unceded, ancestral, and traditional territory of the xʷməθkʷəy̓əm (Musqueam). Whether you plan to attend virtually or in-person, please register for the event using the link below.
---
Talk Abstract
In Shakespeare's Merchant of Venice, Lorenzo asserts that he can "answer…better to the commonwealth" for marrying Jessica than Lancelot can for conceiving a child with a Moor. In making such a claim, Lorenzo demonstrates that early modern assessments of racial mixing included perceived ideas about the impact of exogamy on a broader society. As this talk explores, notions of racial mixing as either beneficial or detrimental to a given population have oscillated since at least the early modern period. Such appeals have not only been employed to hierarchize different formations of mixedness. They have also tended to rely upon and forward distorted representations of past, present, and future demographics.
This talk reads Merchant's appeal to a broader populace alongside other early modern English formulations treating mixedness as a point of extrapolation. It situates such early modern approaches into a longer history of discourse on mixedness and its perceived demographic impact, and it considers how such theories have routinely worked to undergird broader projects of racial construction.
Speaker Biography
Kyle Grady (he/him/his) is Assistant Professor of English at the University of California, Irvine, where he teaches courses on early modern English literature and African American literature. His work has appeared in the journals New Literary History, Pedagogy, and Shakespeare Quarterly, among others. Grady is currently at work on a monograph exploring representations of racial mixing in Elizabethan and Jacobean drama.