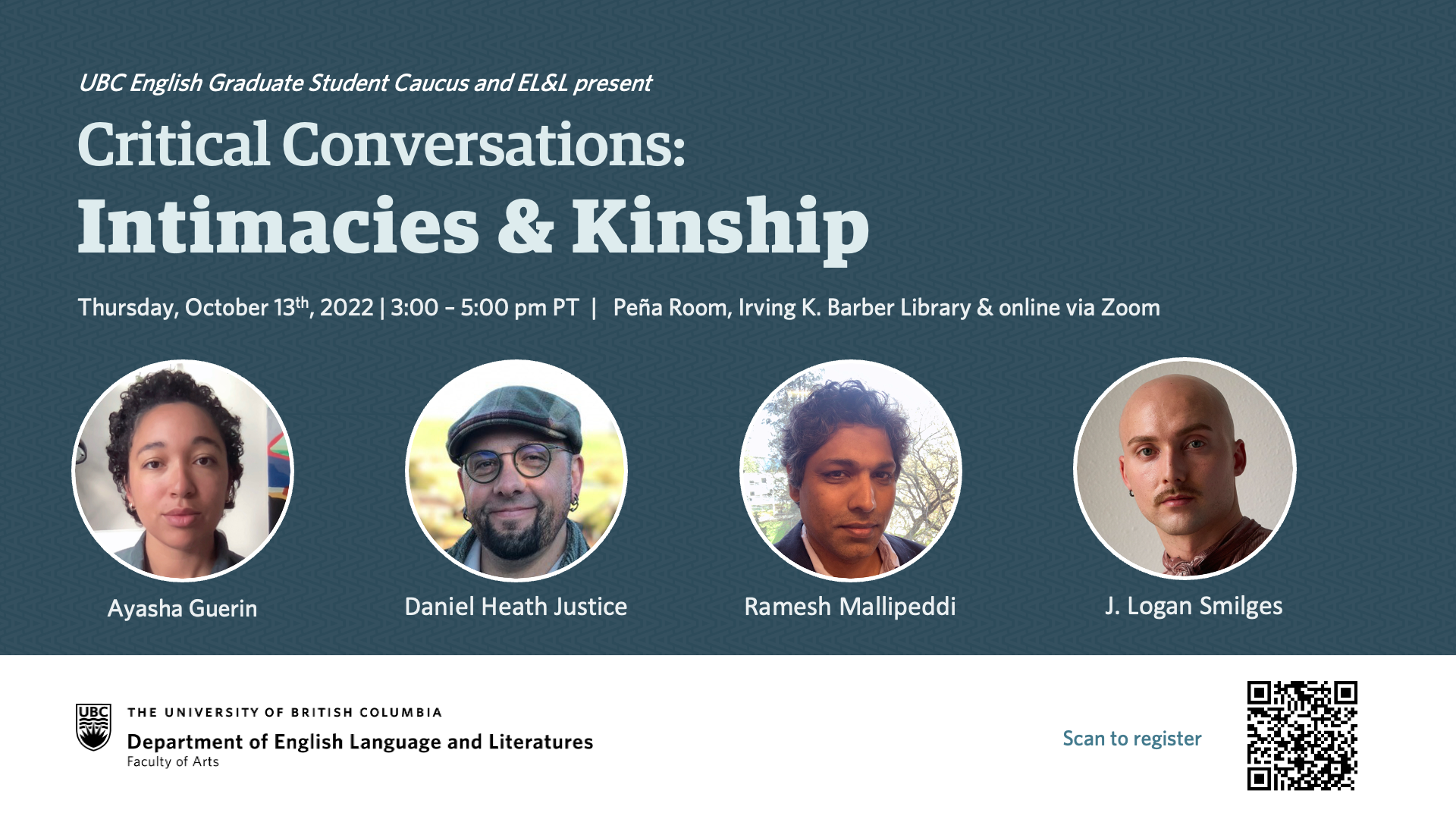 ---
We are delighted to welcome you to the first Critical Conversations event this fall 2022. Critical Conversations is an in-house speaker series initiated by the UBC Department of English Language and Literatures and the UBC English Graduate Student Caucus to foster conversations across fields and periodization between students, faculty, and the UBC community. The events are open to all, and feature brief talks by the speakers on a critical topic based on their wide-ranging research expertise and interests.
The prompt for the first event is "Intimacies & Kinship" to be freely interpreted by the speakers. The event will begin with 10-minute talks by the speakers followed by ample time for Q&A to encourage post-talk dialogue and engagement. Register to attend in-person at the Peña Room, Irving K. Barber Library or online via Zoom.
All are welcome!
Event curated by Dr. Jeffrey Severs, Alice Turski, and Fiana Kawane.
---
Speakers
Ayasha Guerin is an interdisciplinary artist, curator, and professor of Black Diaspora Studies in the Department of English Language & Literatures. Dr. Guerin is also faculty affiliate of the Centre for European Studies, the Department of Central, Eastern and Northern European Studies, and a member of the Critical Image Forum research cluster at UBC. Their first book project, Making Zone-A: Nature, Race and Resilience on New York's Most Vulnerable Shores, explores Black social life and ecology in the city's floodplain from the 17th-19th centuries.
During the 2022-23 Academic year, Dr. Guerin is a scholar in residence at the Peter Wall Institute for Advanced Studies, where they'll be prioritizing manuscript writing, art creation and curatorial work for the Liberated Planet Studio.
Daniel Heath Justice is a Colorado-born citizen of the Cherokee Nation and Professor in the Department of English Language & Literatures and First Nations and Indigenous Studies in the Institute for Critical Indigenous Studies. His work in Indigenous literary studies takes up questions and issues of kinship, belonging, sexuality, personhood, and nationhood, with increasing attention to the intersections between Indigenous literatures, speculative fiction, and other-than-human peoples. His published work includes the literary studies Why Indigenous Literatures Matter and Our Fire Survives the Storm: A Cherokee Literary History, the animal cultural histories Raccoon and Badger, the Indigenous epic fantasy The Way of Thorn and Thunder, and edited and co-edited works such as The Oxford Handbook of Indigenous American Literature with James H. Cox.
Ramesh Mallipeddi is an Associate Professor in the Department of English Language & Literatures. His research on sentimentalism, transatlantic slavery, and the British empire has appeared in Eighteenth-Century Studies, The Eighteenth Century: Theory and Interpretation, and ELH. His monograph,  Spectacular Suffering: Witnessing Slavery in the Eighteenth-Century British Atlantic (Virginia, 2016), shows how the ostensible objects of sentimental compassion—enslaved African people—contended with the forces of capitalist abstraction and produced a melancholic counterdiscourse on slavery.
He is also the editor of Eighteenth-Century Studies, the flagship journal of the American Society for Eighteenth-Century Studies (ASECS).
J. Logan Smilges is Assistant Professor in the Department of English Language & Literatures. Led by commitments to transfeminism and disability justice, J. Logan Smilges writes and teaches at the nexus of queer/trans disability studies, the history of medicine, and rhetorical studies. Their first book, Queer Silence: On Disability and Rhetorical Absence (University of Minnesota Press, 2022), attends to the interanimating absences of disability and silence from the field of queer studies. It theorizes the resistance efforts of minoritarian queer subjects who draw on silence to build community, navigate hostile environments, and resistant institutional and state-sponsored violence. Their second book, Crip Negativity (University of Minnesota Press, 2023), levels a critique of the category of disability and liberal disability politics, asking what horizons might exist for the liberation of disabled people beyond access and inclusion.
---
Moderators
Jamie Bick is currently in the first year of her MA in English Language and Literatures at UBC. Originally from Germany, her research focuses on Victorian literature, female identity development, and female sexuality. Before moving to Vancouver, Jamie worked as an actress in Germany in over 30 TV and film productions.
Hann Scurlock (they/them) is a member of the Chickasaw Nation and in their first year of UBC's Ph.D. program in English Language and Literatures. Their research interests include Indigenous kinship, Two-Spirit/Indigiqueer studies, and Indigenous feminism in the context of contemporary Indigenous literature.